Details

07 April 2014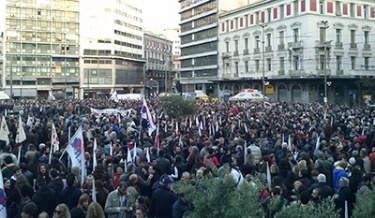 On Sunday 30th March the All Workers' Militant Front (PAME) organized demonstrations in Athens, Thessalonica and other cities against the anti-people draft law of the government which was discussed and passed on the same day under an urgent procedure at the plenary session of the Parliament.
The representative of the parliamentary group of the KKE, Nikos Karathanassopoulos, stressed that the savage anti-people measures which are included in the draft law "represent capitalism in its essence, without any decorations, capitalism that seeks to concentrate the wealth in the hands of a small group of capitalists and leads those who produce the wealth to poverty and destitution".
The draft law of the government provides for new reductions in salaries, delivers a blow against the social security funds of the working people, promotes the dismissals in the public sector, privatizations,  undermines various sections of the self-employed etc.
PASEVE, PASY, OGE, MAS also took part in the rallies of PAME, while a delegation of the CC of the KKE, headed by the General Secretary of the CC, cde Dimitris Koutsoumpas, in the rally and march in Athens. The GS of the CC of the KKE stated to the journalists that: "The further the government and official opposition converge on essential and strategic issues regarding the predatory alliance of the EU itself, regarding the assurances to SEV (Hellenic Federation of Enterprises), big capital and monopolies, the more the "stage-managed" confrontation will strengthen inside and outside parliament regarding the various procedural issues, as will the "cockfighting".
The Greek people, the working class, the poor self-employed, the poor farmers, the youth and women must turn their backs on them. They must organize their own struggle, the genuine people's struggle in the workplaces, to organize their people's alliance, all of them together, with unity and struggles and with the strengthening of the KKE in the impending electoral battles, which is the only essential guarantee that will in this way open up a better path for our people, our children, for our country."
KNE 2011