Details

24 July 2014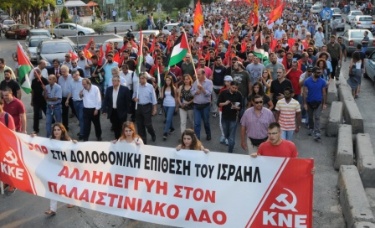 Thousands of people took part in the mobilization organized the KKE in the centre of Athens on Thursday 17/7/2014.
The demonstrators:
-           Expressed in a practical way their solidarity with the Palestinian people.
-          Condemned the Israeli aggression.,
-          Exposed the responsibilities that the USA and the EU bear concerning the crime against the Palestinian people.
-           Demanded that the Greek government cut off every military cooperation with Israel.
The demonstration of the KKE  ended up at  the Israeli embassy.
Similar demonstrations of the KKE were held in many Greek cities.
Below there are photographs and videos from the mobilization.
KNE 2011