Details

15 January 2015
The 11th Congress of KNE was held from the 18th to the 22nd of December (2014) at the headquarters of the CC of the KKE, with the slogan "KNE – the pioneer youth of KKE, combatively marching on the way for a socialist tomorrow, without crises, wars or exploitation"
The work of the 11th Congress of KNE was completed with a spirit of militant optimism and in a climate of substantial discussion, as a continuance of the pre-congress discussion which started in September, with the publication of the theses of Central Council of KNE for Congress, in its organ, the monthly magazine "Odigitis".
Details

15 January 2015
El 11º Congreso de la KNE se celebró del 18 a 22 de diciembre de 2014 en la sede del CC del KKE con el lema: "KNE-Juventud de vanguardia del KKE, combativamente en el camino para el mañana socialista, sin crisis, guerras, explotación".
El trabajo del 11 Congreso de la KNE se completó con un espíritu de optimismo militante y en un clima de debate de fondo, como una continuación de la discusión pre-congreso que comenzó en septiembre, con la publicación de las tesis del Consejo Central de la KNE para Congreso, en su órgano, la revista mensual "Odigitis".
Details

24 July 2014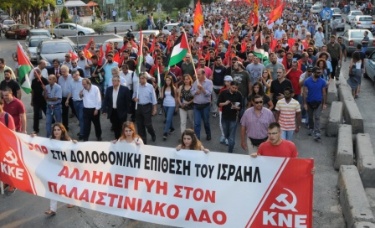 Thousands of people took part in the mobilization organized the KKE in the centre of Athens on Thursday 17/7/2014.
The demonstrators:
-           Expressed in a practical way their solidarity with the Palestinian people.
-          Condemned the Israeli aggression.,
-          Exposed the responsibilities that the USA and the EU bear concerning the crime against the Palestinian people.
-           Demanded that the Greek government cut off every military cooperation with Israel.
The demonstration of the KKE  ended up at  the Israeli embassy.
Similar demonstrations of the KKE were held in many Greek cities.
Below there are photographs and videos from the mobilization.
KNE 2011